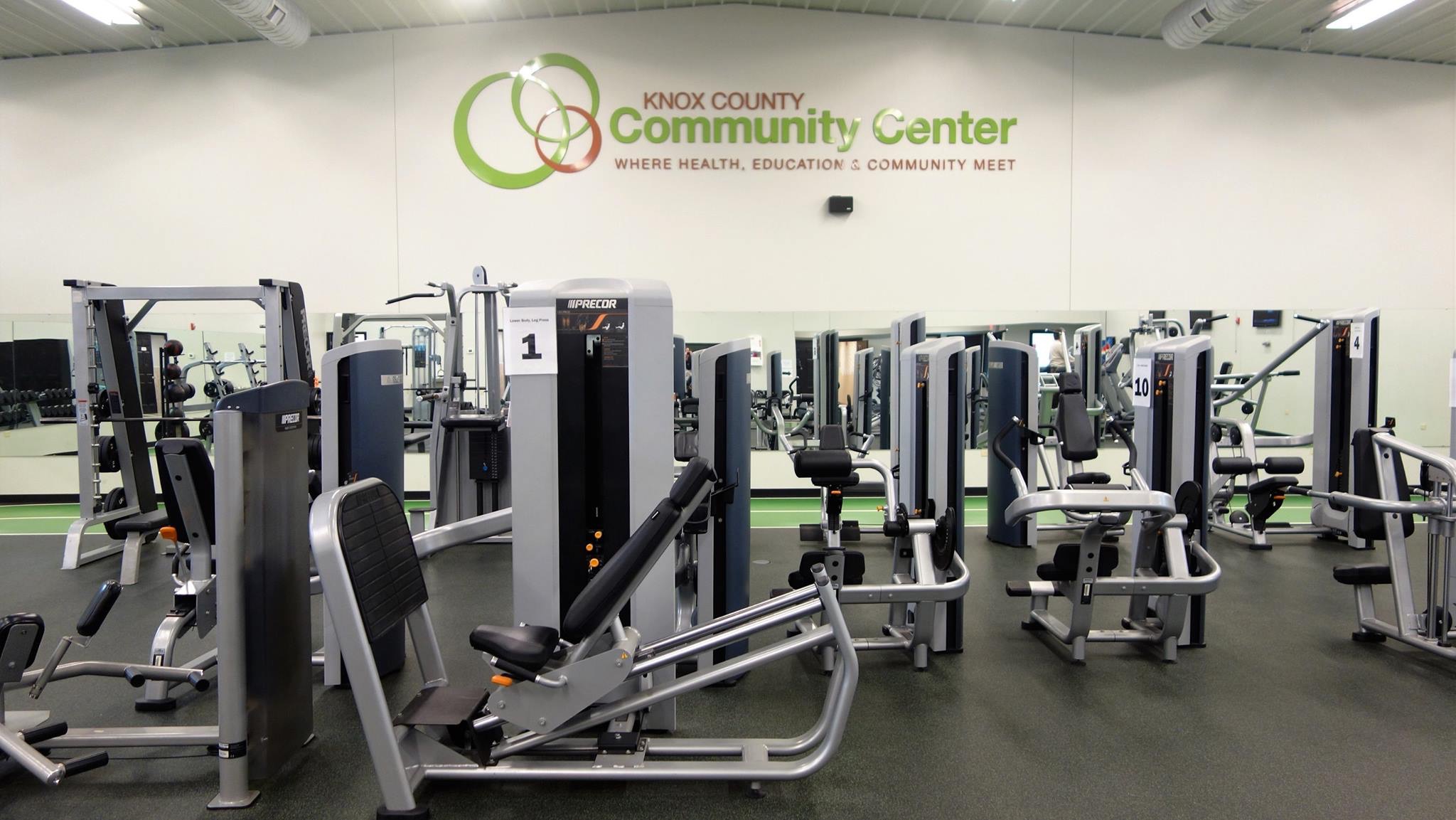 About the Fitness Center
The Knox County Community Fitness Center is an incredible facility. We have a full line of new Precor™ strength and cardio equipment including: treadmills, ellipticals, recumbent bikes, as well as a poured rubber walking track for all of your fitness needs. We will provide instruction to all members to make sure all members will be using the equipment in a safe and productive manner. We will also be providing a variety of different fitness and nutrition classes for members. Please check the calendar for a complete class schedule.
The Fitness Center is a 24-hour facility with keycard access. Members will be able to swipe a card and access the fitness center whenever they wish. Please contact us for more information or to take a tour of the fitness center.
Day passes can be purchased in the Knox County Sheriffs office. (located in the basement of the courthouse, and open 24 hours)
Student is K-12 or college student with school ID. Senior is 62 and over. Seniors Receive a 10% discount on individual memberships.
Policies and Procedures
To insure that all Knox County Community Center members have an enjoyable and safe experience, we ask that you follow all of the policy's set forth.
Hours of Operation: 24 hours a day/7 days a week.

KCCC helps promote healthy lifestyles; therefore, Tobacco products, Drugs, and Alcohol are NOT permitted inside the Fitness Center.

All Users of the facility must have a valid membership or daily pass. NO FREE GUESTS. If you are caught bringing guests into the facility you will be automatically billed for their entry.

Do not loan or allow anyone to borrow your access card. Memberships are non-transferable.

Please make sure the door is completely closed when you enter and leave the facility. Do not block the door open or prevent the door from completely locking shut in any way.

Individuals with health problems should never exercise alone and should be cleared by his or her physician prior to beginning an exercise regimen.

All equipment must be left in good condition and in its proper location.

Clean all equipment after each use. Cleaning towels and spray are available for you to use.

Any damaged equipment should be reported immediately. If the equipment is damaged through improper use, you will be liable for repair or replacement costs and you may receive further membership sanctions.

You must wear appropriate clothing. No street shoes are allowed to be used while exercising. Shirts and closed toe shoes are required.

Surveillance cameras are in use for your protection.

KCCC is not responsible for lost or stolen items. Valuables are best left at home or not brought into the fitness center at all.

KCCC reserves the right to terminate a membership immediately without notification or refund if Member fails to keep and obey any of such rules and regulations, or for reasons of nuisance, disturbance of other members or staff, moral turpitude or fraud.

Membership rates, program fees, and policy's and procedures are subject to change.

Children must be 16 years old to use the fitness center without being accompanied by an adult (18 years or older).

Two access cards are provided with a family membership and one access card is provided with an individual membership. Any lost or extra cards will be a charge of $10.00.

Users of the facility must use the equipment and programs offered in a manner appropriate to their own physical conditions and limitations.